Energy officials turn attention to conservation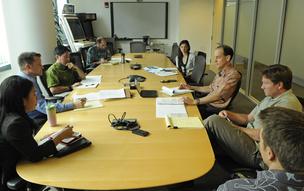 Enlarge
PBN graphic
Executives meet this week to discuss an efficiency program being developed by the PUC. From left, Traci Ho Kim, State Energy Office, DBEDT, Robert Harris, director, Sierra Club Hawaii, Isaac Moriwake, Attorney, Earthjustice, Gregg Kinkley, deputey AG, DBEDT, Jessica Feingold, Environmental Defense Foundation, Doug Codiga, Attorney, Blue Planet Foundation, Richard Wallsgrove, program director and Jeff Mikulina, executive director, Honolulu clean-energy advocacy nonprofit Blue Planet Foundation.
The state is taking a hard look at what many in the energy industry call an overlooked, yet extremely critical part of the Hawaii Clean Energy Initiative — efficiency.
The state's current mandate calls for 70 percent of its energy usage to come from renewable sources by 2030. Of that 70 percent, 40 percent will come from the production of clean energy and 30 percent from energy conservation. The state estimates that it currently is at 13 percent and 12 percent, respectively.
Energy industry officials believe that Hawaii is on pace to meet its goal of producing renewable energy. But some are concerned that it's behind schedule in terms of energy efficiency.
"There is much more that needs to be done in the [energy-efficiency] arena," Hawaii Energy Program Director Ray Starling told PBN in an email.
The National Renewable Energy Laboratory/Hawaii Clean Energy Initiative Energy Efficiency Working Group, which includes Starling and about 20 other renewable-energy and efficiency stakeholders from across the state and beyond, met in Honolulu this week to discuss barriers to energy efficiency.
"This is about the time to get all the stakeholders [together] and share information in terms of success barriers and anything that we can do to help each other," said Kosol Kiatreungwattana, a National Renewable Energy Laboratory energy engineer, adding that it's time to "initiate the conversation."
Launched in 2008 when the Hawaii Clean Energy Initiative began, the group initially planned to meet quarterly but has changed its schedule to about a couple times a year.
Kiatreungwattana said the group is looking at developing a strategic plan.
"The thing we see is that all of these stakeholders, organizations and businesses are doing their own thing," he said. "There's no sharing of information, no specific plan."
Kiatreungwattana, who led this week's meeting, said the next step will be drafting a final report to the Hawaii Clean Energy Initiative this summer. It will address major issues such as the best energy-efficiency technologies that will work for the state as well as managing efficiency, behavior and financing.
"How can you get proper financing for the project?" he asked. "How can you get the funding to have the endkeeper see projects moving?"
State Sen. Mike Gabbard, D-Kapolei-Makakilo-Ewa, chairman of the Senate Committee on Energy and Environment and one of the stakeholders, believes the state has work to do to meet its efficiency goal. To that end, he is championing Senate Bill 1087, which would establish a "green infrastructure financing program."
"There's huge potential in this legislation to spur private financing investment to help homes and businesses access energy-efficiency improvement, such as solar water heating and air conditioning," he told PBN in an email. "It would also make it easy by allowing these improvements to be paid off on their electricity bills."
The bill would establish a regulatory financing structure authorizing the state Public Utilities Commission and state Department of Business, Economic Development and Tourism to provide low-cost loans for green infrastructure equipment. It has passed the Senate and is making its way through the House.
Gabbard noted that the state has been making some strides in the efficiency area, including the installation of solar photovoltaic systems, changing out light bulbs, improving air-conditioning systems and making other infrastructure improvements in the 10 Capitol District buildings, including the state Capitol.
"They've also been working with 30 'green champions' who work in the different state agencies and have been encouraging their colleagues to save energy by closing their doors, turning off their lights and computers when not in use, and unplugging other electronic devices," he said. "These combined efforts have allowed these 10 buildings to reduce their energy consumption by 7 percent over the last year, and the state Capitol actually did the best by reducing its energy use by 16 percent."
Jeff Mikulina, executive director of the Honolulu clean-energy advocacy nonprofit Blue Planet Foundation and a member of the energy-efficiency group, told PBN that in some ways the state is making progress toward its 30 percent efficiency goal.
"That's going to require significant new tools and approaches," he said. "One of those is how we build and how you initially design and build homes."
He noted that the state could improve its building codes by making sure new buildings are net-zero construction.
"We certainly have the technology to do net-zero buildings," he said. "The challenge is that it raises the upfront costs, [but] we ought to give it a good, hard look."
Blue Planet Foundation estimates that Hawaii residents spend about $1 billion on energy annually.
"But a lot of folks don't know that and I think a big challenge is helping people get that information," Mikulina said. "Energy literacy programs and smart meters like those on Kauai are good, as they record in real time how much energy is consumed."
Honolulu-based Energy Industries, one of the state's largest energy-efficiency contractors, knows the challenge of changing behaviors. Brandon Hayashi, energy project developer, compared efficiency to a silent missile — not as sexy as renewable energy but just as important.
"From a large perspective, there are a number of issues why we aren't getting there," he said. "Some are on the level of the owner, who does not understand the power of efficiency."
But there have been several examples of businesses buying into efficiency, including convenience store giant 7-Eleven, which is investing more than $10 million to reduce energy consumption and related costs by 30 percent annually in Hawaii.
"When the Hawaii Clean Energy Initiative was pulled together and established goals for energy efficiency, there were some things that were not addressed," Starling said. "Part of the work that the National Renewable Energy Laboratory is doing is trying to see what we left out and pull all the things back in, in order to have a complete [picture]."
Duane Shimogawa covers energy, real estate and economic development for Pacific Business News.